Jietai's produces a series of big blue CTO carbon block filter for the reduction of a broad range of
contaminants in water, such as chlorine, chloramines, lead, cysts, VOCs. The filter consists of a carbon
block wrapped by a PP exterior fiber, two end caps and gaskets.
The carbon block is made of premium coconut shell activated carbon.
All materials are food grade safe and comply with NSF standards for material requirements. The filtration
performances can be customized to meet NSF/ANSI Standard 42 and 53 standards.
Features And Benefits:
·NSF42 certified carbon block
· Made from premium coconut shell activated carbon
· Outstanding contaminant reduction efficiency and capacity
· Retains beneficial minerals in water
· Delivers great tasting filtered water
· Low pressure drop
· High dirt capacity
·Long service life
·No release of carbon fines
·No channeling or bypassing
· Leading performance at a competitive pri
·Fits most 10 inch standard household, commercial or industrial housings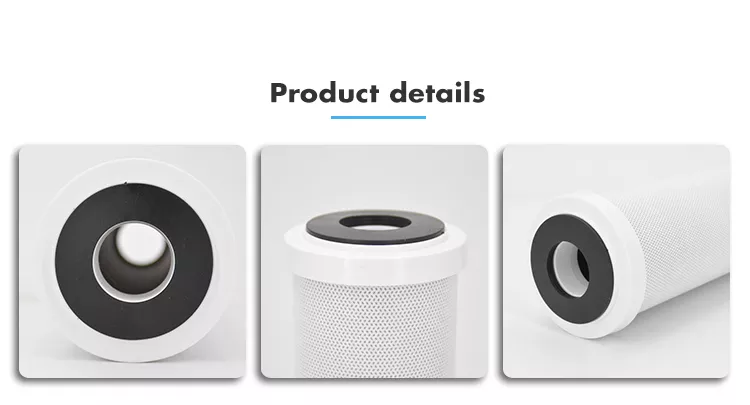 Quality promise
Manufactured using 100% pure NSF 61 certified coconut shell activated carbon.
Tested and certified against NSF/ANSI42/53/401 Standard for material safety structure integrity and systems performance by NSF international
Production site and quality management system certified to ISO 9001 standards.
Health License for Products Involving Drinking Water Sanitation and Safety
Specifications
Performance claims are based on manufacturer's internal test data. Actual performance is dependent upon influent water
quality, flow rates,system design and application. All information presented here is based on data believed to be reliable. It is
offered for evaluations and verification, but is not to be considered a warranty of any kind.